3 DAY HIGHLAND TREK TO MENEGESHA FOREST
Equus Ethiopia has availability on two of its three day rides over the next two months, both to the unique Montane forest of Menegesha Suba, which is to be the second port of call for the Zara Yacob Trail, named after the 15th century Ethiopian emperor that protected the forest.
The trek will comprise two relatively fast days over the open
highlands, to and from the forest, and a slower paced ride in the old growth forest.
* 19, 20 and 21rst of April
&
* 16, 17 and 18th of May
We will be leaving from Equus' base in Solulta and riding straight to the forest on the first day, over the open highlands, will spend one whole slower day enjoying the forest and its wildlife, before coming back by a different route to Solulta, visiting a horse market en route for the April ride, and the Born Free Foundation's lion sanctuary in Menagesha for the May ride.
RIDE FEATURES
* Two fast paced days on the open highlands

*Two nights in the rustic park lodge in the forest

*One leisurely day riding in the forest

*Old growth historical forest of Menegesha Suba

*Wildlife

*The horse market of Guddu with its hundreds of horses (April ride)

*The lion sanctuary in Menagesha (May ride)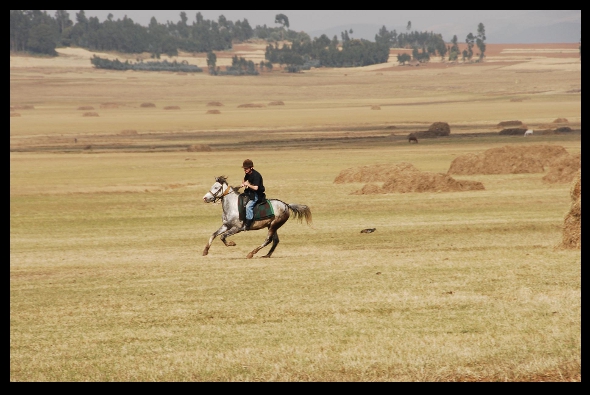 The three day Menegesha Suba Forest & Highland Trek can also be tailor made  and a trek set up at any date for a minimum of 2 guests.
These two short treks (or similar custom trips) can be attended by Addis Ababa riders with their own horses as well. If you are a rider and would like more information about how to ride your own horse to the forest, please contact us.
Equus is also happy to organise trips for guests travelling on their own. Call us on 251 9 10 26 09/18 or 251 9 46 86 59 it you'd like to discuss options or email us:  info@equus-ethiopia.com